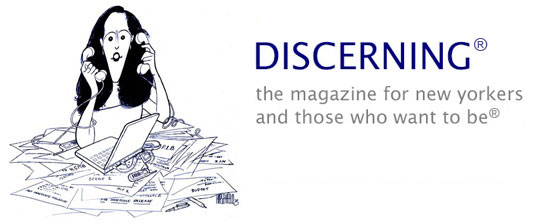 Manhattan Apartment Living: Small is the New Big
By Pamela L. Berman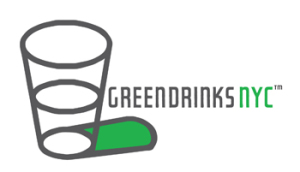 As a freelance writer, and a real estate agent investigating and facilitating the selling, buying, renting, and leasing of residential and office space … it's always an unexpected pleasure when my various pursuits intersect fortuitously, as they did recently when I was invited to an event hosted by Green Drinks NYC at the showroom of Resource Furniture.

Founded in 2002 by Margaret Lydecker, Green Drinks NYC calls itself "the largest environmental networking organization dedicated to unifying the sustainable community in NYC," hosts monthly events, and has over 15,000 members. Indeed, this socially conscious company (and local satellite of the international Green Drinks) has become a kind of unique meet-up and movable cocktail party for environmentally savvy revelers and entrepreneurs — including architects, interior designers, product designers, engineers, artists, academics, retailers, real estate movers and shakers … and their concerned clients … among other citizens from all walks who are trying to change the dialogue about industry and modern living, as they change the world.
And which no doubt inspired Green Drinks NYC's association with Resource Furniture. Since 2000, Resource has been in the vanguard of importing and distributing inspired furniture from Europe, with showrooms in New York and several major Canadian cities. Owners Ron Barth and Steve Spett have also been in the forefront, especially of late, working closely with developers in NYC, suburban NYC, and other cities, and playing a central role in the current discussions spearheaded by Mayor Bloomberg's adAPT NYC program for building micro-apartments. Resource is also sponsoring the Museum of the City of New York's exhibition "Making Room: New Models for Housing New Yorkers," which showcases innovative design solutions for small apartments, including a 325-square-foot room model ("a size prohibited in most areas of the city").
Because let's face it … Unless you are in that rarefied percentile of New Yorkers whose dwellings come with cool seven-, eight-, and now even nine-digit price tags — and the corresponding breadth of gracious living — we live in a shrinking city in search of where the heck to put all our stuff.
In the course of my work, I often look at apartments, or even single rooms within larger spaces, that are size- and shape-challenged, and am asked by clients and customers to make suggestions. While there are many tips for making small rooms look larger, such as picking correctly proportioned furniture, creative lighting and the thoughtful use of paint, artwork, and so on, the most important thing one can do for a small space is to purge the clutter, of course. However, artistic types, frequent travelers and collectors such as myself know that that is so much easier said than done. Nevertheless, fond memories and fabulous "finds," or not, sometimes you just have to face the great New York City trade-off and send your treasures on a permanent vacation elsewhere.
Yet, really, the best and most encompassing solution I have found for smaller spaces — i.e., for those people not capable of some OCD version of "nothingness" Zen — is to find a way to have a place for everything, and everything in its place. Which, for me, means only one thing: clever "furniture systems" with innovative storage.
So I was delighted to discover that Resource Furniture lives up to its name with the sort of creative pieces I have always utilized since I moved into my own, very first NYC apartment as a student: furniture that can multi-task. A design concept pioneered by companies like Murphy Bed, which is still in business and still popular today over a century later … along with many off-shoot design companies and alternative and evermore sophisticated mechanisms … Resource stands out on the high end with fresh, sleek gems of form and function.
Concealed beds reveal sofas and libraries and desks when not in use, tables "rise to the occasion" or stretch beyond their initial slim impressions, "walls" become bunk beds, chairs so elegantly thin and compact they take up a fraction of space when hung almost as "wall art," and so many other very cool and versatile products … Frankly, I would simply adore these pieces even if space were not an issue.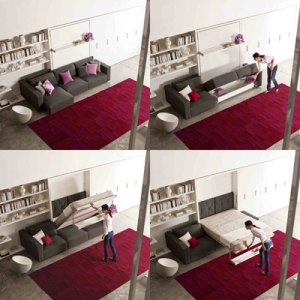 And for some, like the evening's guest speaker, Graham Hill, who has used Resource to furnish his own apartment, living "small," "clean," and "reducing one's footprint" is a mission. A successful businessman in several fields, who opted out of corporate life and conspicuous consumerism, founded TreeHugger, moved to New York, bought a couple of small apartments, and later founded LifeEdited, Hill gave up his more expansive lifestyle and opted for sizing down only to what he really "needed," and now devotes himself to inventing new products, creating new buildings and apartments, and teaching the world about existing more efficiently. And how much fun it can be (he says)!
This all sounds wonderful when you have the luxury of actually choosing whether to live in a small apartment or a city palace. However, try convincing the average New Yorker already existing inadequately in a "micro" New York apartment with a cramped, reduced quality of life that sizing down even further is the way to go. A New Yorker might tell you — in more colorful language — that the only advantage to reducing your footprint is if you're Sasquatch and you forgot to turn off the Location Tracker on your iPhone.
Yes, I've lived in big, and I've lived in small, and let me tell you — no matter what anyone says — big is better. Real breathing room and light and quiet and air and views and gardens count. And closet space! Lots and lots of closets! Not to mention that elegantly engineered chic does not comes cheap — high art never does. But as micro-apartments take shape and wend their way through city planning, "high concept" furniture and products will not only be considered ingenious and chic — but absolutely necessary. Never mind that, ultimately, it might be just an ironic trade-off: expensive solutions instead of expensive, larger apartments.
Still, with so little inventory on the market, New York is in dire need of more apartments and more affordable living, especially for groups such as the city's "artist class," which has always given New York so much of its lifeblood and edge … and finds itself all but forced out of town in search of less costly live and work space. That alone is changing the dynamic of our city, and not for the better.
So make no mistake: the day of small is looming big, my friends — one can see the writing on the (movable) wall. Fortunately, though, in this changing landscape, we have companies like Resource to help make the inevitable compromises and sacrifices a whole lot more appealing — and organizations like Green Drinks NYC to help ease the pain with cocktails, hors d'oeuvres, and stimulating conversation with leaders of this brave, new, environmental avant-garde … and interesting, passionate, likeminded fellow travelers with energy to burn.
For more information, please visit:
http://www.greendrinksnyc.com/
http://www.resourcefurniture.com/
http://www.lifeedited.com/
http://www.mcny.org/exhibition/making-room
http://www.nyc.gov